Hip Replacement Surgery
Find Cost / Price Information and Much More
Hip replacement, also known as total hip arthroplasty, is an operation that replaces a damaged hip with an artificial joint. This can provide great relief from chronic hip pain and conditions like osteoarthritis or hip dysplasia that are not well-managed with other treatment
Why have hip replacement surgery?
Hip replacement can improve quality of life by reducing hip pain and allowing you to comfortably take part in your favourite activities again.
Hip pain should dramatically decrease and mobility should increase after surgery. These improvements may improve other areas of your life including general mood and sleep quality.
Surgery is often a better option for patients whose hip pain is not well managed with non-surgical methods including:
Painkillers
Physiotherapy
Steroid injections
If these or other methods cannot manage your hip pain, hip replacement may be a good option for you. Schedule your consultation with a Medbelle orthopaedic surgeon to find out.


How much does hip replacement surgery cost?
Broadly, the price of hip joint replacement with a private orthopaedic surgeon begins around £9,000 and can cost as much as £16,000 or more.
Prices can change depending on preexisting health conditions and other factors and where in the UK you will have surgery.
Medbelle prices are tailored to your needs, so the best way to find out a specific price for your hip replacement is to have a free consultation with a Medbelle surgeon.
After your consultation, you will be given a customised price for your surgery.
This price includes the following:
All fees related to your hospital stay

Accommodation
Nursing staff
Surgery theatre cost
Physiotherapy
Imaging costs
Medication
Pathology

Aftercare

7 days worth of any medication prescribed by your surgeon
A standard mobility aid such as crutches or a cane
10 post-operation physiotherapy sessions
1 post-op X-ray

With Medbelle, you'll never face any hidden costs. You are walked through your price breakdown during your consultation and told what this price includes and what it does not.
Your price for hip replacement surgery with Medbelle will not include:
Diagnostic imaging scans

Estimated £150 per x-ray
From £500 to £600 for MRI or CT scans

Post-operation surgeon consultations
During the consultation, your surgeon will tell you what scans you will need before surgery. Also, remember we at Medbelle take pride in never making our patients feel obligated or pressured to move forward with treatment. Our surgeons customise surgery plans for each patient to give them the best result possible and never include unnecessary recommendations for any scans, surgery, or further visits.
We understand that the cost of many orthopaedic surgeries can be daunting despite the benefits of private care. This is why Medbelle offers financing for hip replacement surgery. This allows you to pay in affordable monthly payments instead of one lump sum.
Learn more about your finance options for your private care and apply by speaking with a Medbelle Patient Care Adviser.
How is hip replacement surgery performed?
Hip joint replacement surgery takes between 1 to 2 hours to perform, though it can be longer depending on the condition of your hip and if you have had hip surgery previously.
You may only need a partial replacement, meaning only one part of your hip joint is replaced (either the socket or the ball of the joint).
This overview explains how a full hip replacement is performed, but the general procedure is identical to a partial replacement.


Types of Hip Replacement Incisions
To perform hip joint replacement surgery, your surgeon will make an incision down the side of your hip. The picture below is of a hip replacement scar one year after surgery.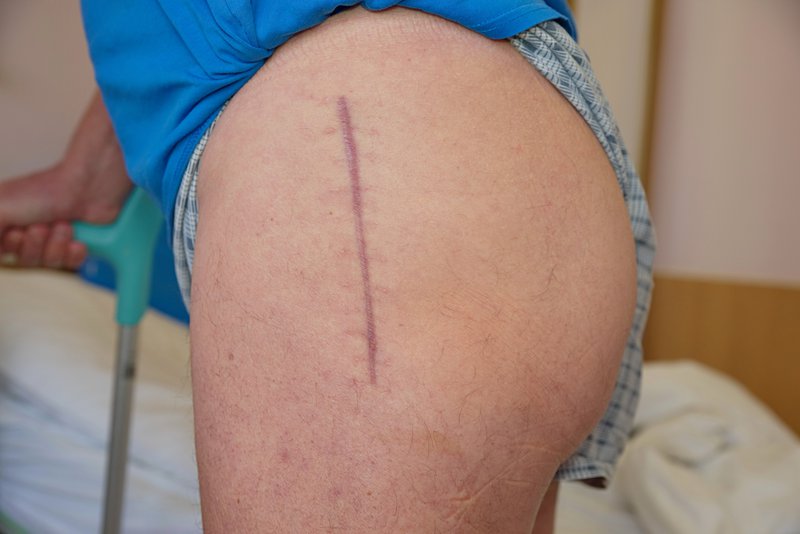 Incisions vary in size and location according to the technique used. You will be told where these incisions will be placed well before surgery after consulting with your surgeon.



Types of Artificial Hip Joints
Artificial joints also called prostheses are made of several different materials, including metal and ceramic, like those in the picture below.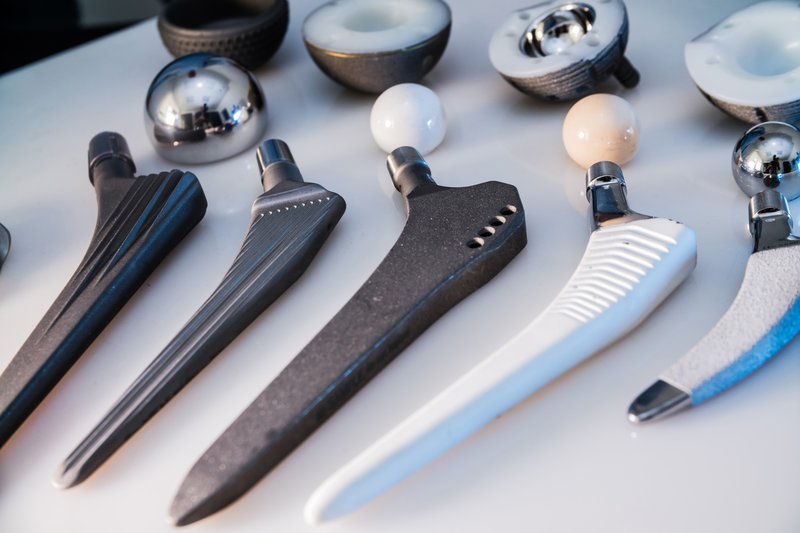 You and your surgeon will discuss the exact type of replacement joint that will be implanted before surgery.

Hip Replacement Procedure


Figure 1: In order to replace the hip joint, your surgeon must remove the damaged parts of the hip joint that will be replaced.
Figure 2: Once removed, the surgeon reshapes the bone and places a part of the implant into the cup of the joint.
They will then attach the ball of the new joint to the top of your leg bone called the femur.
Figure 3: The surgeon then checks that the new joint has a good range of movement and makes any alterations.
Figure 4: As soon as the surgeon is happy with the fit of the joint, the incision is closed and the surgery is done.
You will spend up to 5 nights in the hospital after surgery depending on how your recovery progresses.



Physiotherapy After Surgery
A physiotherapist will assess you when you wake after surgery. They will help you get up and about. They will also show you a number of exercises and stretches that will help you regain strength in your hip.
When you are allowed to go home, your surgeon will likely create an individual physiotherapy plan for you to follow. As with their other recommendations, it is important you follow this plan exactly.
Outside of physiotherapy, it's a great idea to start walking regularly every day as soon as you are able.
What are the potential risks & complications associated with hip replacement surgery?
As with any surgery, there are risks and complications that can occur after hip replacement. It is very important that you are aware of these risks before choosing to have surgery.
It is also vital that you follow your surgeon's specific aftercare instructions to reduce your risk of complications.
Risks and complications associated with hip joint replacement surgery include:
Bruising & bleeding
Infection
Scarring
Skin discolouration
Nerve damage and reduced sensation or movement in the leg
Hip dislocation
Difference in leg length
General surgical complications
Why choose a private provider like Medbelle for hip replacement surgery?
Public options do provide exceptional care. However, long wait times and a lack of control make private orthopaedic providers a great option for those who prefer not to wait. The cost of private care comes with many advantages.
Benefits of private care from Medbelle for hip joint replacement surgery include:
Wait times as short as a few weeks
Flexible appointment scheduling and rescheduling
Greater choice regarding your surgeon
Leading care in technologically advanced hospitals
One-to-one support from a Medbelle Patient Care Adviser
Read more about the benefits of private orthopaedic care here on the Medbelle blog.