SUMMARY
Anaesthetic
General anaesthetic or local anaesthetic
Breast implant replacement is a type of breast implant revision surgery that involves removing breast implants and replacing them with a new set. This procedure may be done to correct complications and is commonly combined with other procedures, including capsulectomy and mastopexy (otherwise known as a breast lift or breast uplift). Implants can also be replaced to change the size or shape of the breasts if preferences change.
How much does Breast Implant Replacement Surgery cost?
Breast Implant Replacement Surgery typically costs between £5,500 and £6,500. Patients may be offered different prices within, or in rare cases outside of this price bracket dependant on various factors. The personalised price offered will contain no hidden fees, however, and always cover:
Surgeon and anaesthetist costs
An overnight stay (if required)
CQC hospital costs
Follow-up appointments and aftercare
The specific procedural details are decided on a case-by-case basis. Various details will be discussed during a patient's consultation, after which a personalised procedure price will be agreed upon by considering the patient's wants and the surgeon's recommendations. The price may differ depending on the following factors:
The hospital or clinic chosen for the procedure
Surgeon and/or anaesthetist experience
The complexity of the specific procedure tailored to the patient's individual wants or needs
The surgical technique used
Combined procedures
Why have Breast Implant Replacement Surgery?
Any patient with breast implants may want to have them replaced for a variety of reasons. These range from needing to address complications like capsular contracture to simply wanting a different size or shape implant.
While cosmetic reasons are often a motivating factor, breast implant replacement can also address other complications including:
Lateralisation (implants and breast tissue moving down/away from the middle of the chest)
Double-bubble (the implant falls below the natural fold at the base of the breast)
Sagging
Implant rupture or leak
Patients with PIP implants may also wish to replace their implants with a new and safer option with a lower risk of rupture or leakage.
What is Capsular Contracture?
The body naturally surrounds any implanted foreign object, including breast implants, with fibrous scar tissue. This scar tissue creates a capsule around the implant.
A vast majority of the time, these fibrous capsules comfortably hold the breast implants and cause the patient no problems whatsoever.
Capsular contracture occurs if this capsule begins to constrict. This can happen in one or both breasts and often the level of constriction is different in each breast.
With more advanced capsular contracture, the pressure placed on the breast implant makes it feel hard.
As the capsule shrinks, the implants tend to distort into a ball shape. This makes the breast look unnaturally round because the implant cannot sit flat against the ribs as they are designed to do. If the constriction continues, the implant can also be ruptured by this force.
If severe capsular contracture develops, it can be painful and uncomfortable for the patient. Patients with severe capsular contracture are faced with the physical pain and emotional discomfort caused by the aesthetic deformity caused by the capsule.
Capsular contracture can also distort natural breast tissue and weaken the fibrous ligaments that support the breast. Ultimately, this may cause sagging.
For patients who want to improve the look of sagging, breast implant replacement surgery can also be combined with a breast lift also called mastopexy. Combining breast implant replacement with breast lift not only alters the shape and/or size of the breasts it also removes excess skin and places the nipple higher on the breast so they appear lifted and more youthful.
The Breast Implant Replacement Consultation
Surgeon consultations for breast implant replacement take between 15 minutes to 1 hour to complete.
To decide the best surgery option, they will ask about the following topics:
Medical history
Previous surgical history
Any medical conditions
Any current medications
Motivations & expectations regarding breast implant replacement
The surgeon will also examine the breasts and the scars left from previous breast surgeries.
They will also ask about any current or previous complications related to the implants and discuss these in more detail.
To ensure breast implant replacement surgery is the best option for the patient, they may request additional tests or scans of the breast implants including ultrasound or MRI.

Questions to Ask During a Breast Implant Replacement Consultation
The consultation is the perfect opportunity to ask questions and learn as much as possible about breast implant replacement surgery.
Some good questions to ask the surgeon include:
Do you think what I want to achieve from surgery is realistic?
Request to see before and afters
Would you recommend any additional procedures, such as a breast uplift?
What will the recovery process involve?
What technique do you normally use for this procedure?
Where will the scars be located?
What shape and size of breast implants would give the best results?
How is Breast Implant Replacement Surgery Performed?
Breast implant replacement surgery can last anywhere from 1 to 4 hours.
The more complicated the procedure, the longer it will take. For example, a breast implant replacement that also includes a capsulectomy and a breast lift will take longer than a simple implant replacement surgery.
There are two anaesthesia options for this surgery.
General anaesthetic involves placing the patient into a dreamless sleep with medication. This is usually preferred when the surgeon expects the surgery to be very complex or take longer than an hour.
Local anaesthetic with sedation numbs the area where the surgery is performed. This is a better option for more straightforward and shorter procedures.
Techniques for Breast Implant Replacement
Once anaesthesia is administered, the surgeon makes the incision necessary to remove and replace the breast implants.
This process may be very simple if the new implant is similar in size and shape and will be placed in the same place in the breast. In this case, the incision will be placed in the same position as the incision from the previous breast enlargement surgery, likely in one of the locations in the diagram below.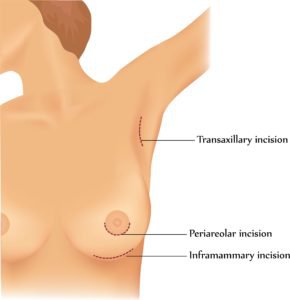 The existing implants will be removed, leaving the capsule in place, and the new implants will be placed in the same location.
When the surgeon is happy with the placement, the incisions are closed and the surgery is ended.
What happens if Breast Implant Replacement Surgery is More Complex?
The basic flow of the operation will be the same for a complex breast implant replacement surgery.
Complex implant replacement will, however, last longer and likely involve the breast implant and capsule being removed from the breast.

The basic flow of the operation will be the same for a complex breast implant replacement surgery.
Complex implant replacement will, however, last longer and likely involve the breast implant and capsule being removed from the breast
Procedures Commonly Combined With Breast Implant Replacement
The two most common procedures combined with breast implant replacement are capsulectomy to treat capsular contracture and breast lift to address sagging.
Depending on the needs of the patient, all three procedures (breast implant replacement, capsulectomy and breast lift) can be performed during one surgery to simultaneously resolve capsular contracture and sagging.
Capsulectomy
Capsulectomy is the medical term for the surgical removal of a breast implant and fibrous capsule (capsular contracture)that naturally surrounds it.
The incision necessary to remove a breast implant and capsule depend on the severity of the contracture.
Generally, the incision will be made at the inframammary fold where the breast naturally creases. This incision is larger than one needed to perform breast enlargement because the implant becomes much less flexible as capsular contracture develops.
Once the capsule has been removed, a new implant can then be inserted into the breast and the surgery can be completed as usual.
Mastopexy (Breast Lift)
If included in a breast implant replacement surgery, a breast lift is performed after the original implant and capsule are removed and the new implant is placed.
To perform a breast lift, excess skin is removed and the nipple is placed higher on the breast to create a firmer and lifted look.
The basic procedure for a breast lift can be seen in the diagram below.
Potential Risks & Complications Related to Breast Implant Replacement Surgery
Every surgery is associated with some level of risk. However, choosing an experienced BAAPS/BAPRAS member surgeon reduces the risk of any complications developing as does following their pre-and post-operative recommendations exactly.
It is important to be aware of these risks and complications before surgery. The general surgical risks and complications include:
Bleeding
Bruising
Blood clots
Post-operative pain
Infection
Excessive or keloid scarring
Reaction to anaesthesia
Nausea and vomiting
The risks and complications associated with breast implant replacement are related to the complexity of the surgery and the risks associated with breast implant surgery generally.
These risks include but are not limited to:
Unwanted or unexpected aesthetic result
Capsular contracture
Double bubble (implant sits below the natural crease of the breast)
Lateralisation (implant moves lower and away from the centre of the chest)
Sagging
Seroma
Tissue necrosis
Altered sensation in the nipple, areolae and breast
A very small risk of Breast Implant-Associated Anaplastic Large Cell Lymphoma (BIA-ALCL)
Find out more about Risks & Complications
Breast Implant Replacement Aftercare
It takes time to recover after any surgical procedure. Knowing what to expect will help you to feel prepared for how things will be after the operation. The surgeon will give the patient specific aftercare instructions which they should follow closely.
Straight After the Surgery
After the breast implant replacement operation, the patient will return to the ward to recover. During this time, the medical team will monitor them and make sure they are comfortable. If patients have had a general anaesthetic, it may take some time for this to wear off. As a result, they may feel drowsy or sleepy. The medical team will regularly check-up and make sure any symptoms such as pain or sickness are well controlled.
Going Home After Surgery
The length of time patients will be required to stay in the hospital will depend on how long the surgery took, any pre-existing medical conditions or if there were any complications during or after the procedure. During the consultation, the surgeon will discuss when they expect the patient to be able to return home. Often this is on the same day as surgery but some patients will spend up to two days in hospital after a breast implant replacement procedure.
Patients will not be able to drive for some time after the surgery due to the general anaesthetic and post-operative discomfort. It is important that patients follow the specific instructions that your surgeon gives you about driving.
A follow-up appointment will be arranged for approximately 2 weeks after the breast implant replacement operation. This appointment allows the surgeon to monitor recovery and make sure that the incisions are healing well.
Going Back to Work
Patients will need to take some time off work to help with recovery. Each individual will feel different after the operation and some people may take longer to recover. In addition, different jobs are more physically demanding and may require more time off. During the consultation, the surgeon will be able to give specific advice on how much time is needed to take off work.
Compression Bra
After having a breast implant revision procedure, the breasts are likely to feel quite sensitive and sore. As a result, the surgeon may advise wearing a supportive bra during the first 2-5 weeks after the breast implant replacement procedure.
Showering and Bathing
The surgeon will give you specific instructions regarding showering and washing. Patients may not be able to have a shower or get the treatment area wet for several days after the procedure. Once you are able to shower again, it's important to consider that you may find it more difficult to wash and you may need some help with this.
Exercise and Physical Activity
How soon you can return to exercise and activities will largely depend on how physically demanding they are. For the first three weeks, it is suggested that you avoid all sport and physical activities and focus solely on your recovery. It is important that you give your body time to heal and recover. During this initial recovery time, aerobic activities can cause swelling and slow down your progress and healing. After the third week, you may be able to do light physical activity, such as cycling. Once it has been six weeks since the operation, you should be able to resume your normal exercise and activities. Again, your surgeon will give you specific timeframes that you should follow.
Scar Care
After having your surgery, it is important that you follow your surgeon's advice on how to care for the surgical wounds and any scars. This will help ensure the best possible cosmetic result from the operation. When it comes to scar care, your surgeon may recommend the following techniques to help reduce scarring:
Scar massage – starting only after the incision has fully healed and the scab has completely resolved on its own.
Silicone sheets or scar gels – when the glue/tape from surgery is removed and the incisions are fully healed, it is recommended to use these for six months to one year.
Keep your scars out of the sun and use a high factor sunscreen to avoid darkening your scars.
The Final Results
It is important that you are aware that it may take some time for your breasts to fully settle and for you see the final results of your surgery.
If you are choosing to increase the size of your implants, your breasts may feel over-enlarged, tight and heavy. This occurs due to post-operative swelling and should resolve with time. Your breasts may also appear tight, too high or unnaturally round before they settle fully. In addition, your nipples may feel numb or overly sensitive for some time. Generally, after around 8-12 weeks following the operation, your body should have recovered to the extent that you can see the results of your breast removal surgery. However, it may take up to 2-9 months for this healing process to be fully complete. Your surgeon will be able to give you timeframes specific to your recovery.
Find out more about Breast Implant Replacement Aftercare
FAQs
What are some common breast implant replacement FAQs?
It is important that you ask your surgeon any and all questions you have about your breast implant replacement procedure. Common breast implant replacement FAQs include the following:
Find out more about general surgical risks as well as specific breast implant replacement complications.
Find out how best to prepare for the procedure and how to ensure a good recovery.
More Breast Surgery Procedures
Find a list of the breast surgeries offered by Medbelle's BAAPS/BAPRAS member surgeons below and start your journey today.
Discover the different procedures
Book your consultation with one of our specialists