Hip Arthroscopy Surgery
Find Cost / Price Information and Much More
Learn everything about your treatment
Hip Arthroscopy is a type of minimally-invasive orthopaedic surgery that can treat a range of hip issues including osteoarthritis and femoroacetabular impingement (FAI) and many others. Small tools are used to reshape the hip joint which may result in faster healing and recovery compared to traditional hip surgery.
Why have hip arthroscopy surgery?
Arthroscopic hip surgery aims to relieve pain and improve function and mobility in your hip joint by reshaping the joint so it works and moves more easily. Hip arthroscopy is a type of keyhole surgery. This means only small incisions are made around the hip and the surgery is performed with small tools that are inserted into the hip.
While every patient experience is different, you may not need to stay in the hospital overnight after your surgery and may be able to return to your normal life more quickly than if you had traditional hip surgery that involves much larger incisions and more invasive techniques.
Hip arthroscopy has some other benefits over traditional hip surgery:
Shorter recovery time
Less scarring
Less pain after surgery
Less risk of infection and other complications
As with any other orthopaedic hip surgery, an arthroscopy is likely only a good option for you if other methods like physiotherapy, painkillers, and steroid injections do not manage your pain or improve your mobility.
Schedule your consultation with a Medbelle orthopaedic surgeon today and find out if hip arthroscopy is right for you.
How much does hip arthroscopy surgery cost?
Prices for UK orthopaedic surgery vary depending on a variety of factors. The location of the hospital, the surgeon operating, what services are included as well as pre-existing health conditions all impact the cost of your arthroscopic hip surgery.
In the UK hip arthroscopy can cost from £2,500 and up to £9,000 or more.
With Medbelle, hip arthroscopy prices are inclusive and transparent. After your consultation, you are given a price for your hip arthroscopy.
This price includes:
All fees related to your hospital stay
Accommodation
Nursing staff
Surgery theatre cost
Physiotherapy
Imaging costs
Medication
Pathology
Aftercare
7 days worth of any medication prescribed by your surgeon
A standard mobility aid such as crutches or a cane
8 post-operative physiotherapy sessions
1 post-operative x-ray
Post-operative appointments with your surgeon
When you are given your arthroscopy price quote, your Medbelle Patient Care Adviser will walk you through the details and explain what is covered in this cost, and what is not.
The cost of your hip arthroscopy with Medbelle will not include:
Diagnostic consultations

£250 for initial consultations
£150 for additional diagnostic consultations

Diagnostic imaging scans

Estimated £150 per x-ray
From £240 for MRI scans
During the consultation, your surgeon will tell you what scans you will need before surgery. Also, remember we at Medbelle take pride in never making our patients feel obligated or pressured to move forward with treatment. Our surgeons customise surgery plans for each patient to give them the best result possible and never include unnecessary recommendations for any scans, surgery, or further visits.
Is finance available for hip arthroscopy surgery?
Private orthopaedic care comes with many benefits like more freedom to choose your appointment times, surgeon and hospital but the price can be difficult to budget.
If you cannot afford the cost of hip arthroscopy in one payment, Medbelle offers finance for all orthopaedic treatments. Take the worry out of paying for your procedure and break the cost into easy-to-manage monthly payments.
Learn more by getting in touch with a Medbelle Patient Care Adviser today.
How is hip arthroscopy surgery performed?
Hip arthroscopy takes around 1.5 to 2 hours but can vary depending on how your surgeon plans to correct your hip joint. Although tools and techniques may vary from surgeon to surgeon, the general method for arthroscopy is the same.
Types of Hip Arthroscopy Incisions
Incisions known as port sites will be made on the skin around your hip to allow the camera and fine instruments inside. The fluoroscope (a portable x-ray device) may also be used to help the surgeon see the bones of the joint more clearly.
These incisions will likely be on the side of your hip at various places depending on the technique your surgeon uses and how many tools they need to use during surgery.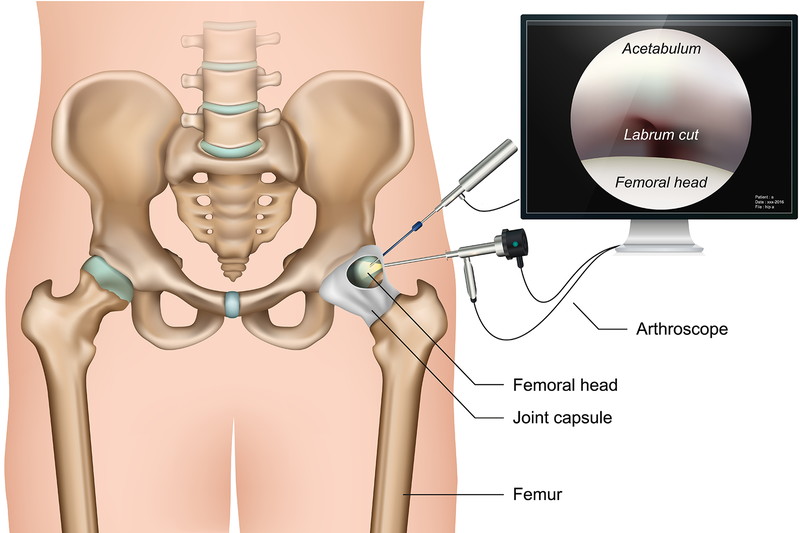 Incisions vary in size and location according to the technique used. You will be told where these incisions will be placed well before surgery after consulting with your surgeon.
Hip Arthroscopy Surgery Procedure


Hip arthroscopy can be used to treat a variety of hip issues. The most common are FAI and osteoarthritis of the hip as described below.


Hip Arthroscopy for Femoroacetabular Impingement (FAI)
When treating FAI with arthroscopic hip surgery, the surgeon uses tools to reduce the size differences between the ball and socket to help them fit together correctly.

Hip Arthroscopy for osteoarthritis
Osteoarthritis can cause abnormal pieces of bony tissue to grow within the joint called osteophytes.
The small tools inserted into the hip during surgery are used to shave off these pieces of bone to prevent them from growing into the joint.
Many hip arthroscopy patients spend only one night in hospital after surgery, and some are fit to go home on the same day.
Your surgeon will tell you if you will stay in hospital overnight well before the day of your surgery.
Physiotherapy After Surgery
The vast majority of patients undergoing orthopaedic surgery require physiotherapy and post-operative appointments as they recover. Both of these make sure your joint heals well and that strength returns to the area or limb operated on.
It is vital you follow any advice, recommendations and stretching or exercise regimens given to you by your surgeon or physiotherapist. Everything they recommend is meant to give you the best results and healthiest hip possible once you recover.
What are the potential risks & complications associated with hip arthroscopy surgery?
The risk of developing complications after arthroscopic hip surgery is much lower than the risk associated with traditional open surgery methods. However, even though the risk is reduced, you still must be aware of it before agreeing to have surgery.
Your orthopaedic surgeon will walk you through all the risks well before surgery so you can make an informed decision about your care.
Risks and complications associated with arthroscopic hip surgery include:
Bruising
Bleeding
Swelling
Infection
Blood clots
Nerve damage
Why choose a private provider like Medbelle for hip arthroscopy surgery?
If you require orthopaedic surgery but dislike the lack of choice regarding your care or potential months or years long wait, private orthopaedic care through Medbelle may be for you. While the cost is out of pocket, there are many benefits associated with choosing a private provider for your orthopaedic procedure.
By choosing Medbelle for your private orthopaedic care, you're choosing:
Shorter on average waiting times than public options (as short as a few weeks)
Hassle-free appointment scheduling and rescheduling
The ability to choose your surgeon
Leading care in technologically advanced hospitals
Individual support and guidance from a Medbelle Patient Care Adviser
Read more about the benefits of private orthopaedic care here on the Medbelle blog
Hip Arthroscopy FAQs
Do I need a GP referral to have hip arthroscopy?
When can I return to my normal activities after arthroscopic hip surgery?
Will I need any physiotherapy after my hip arthroscopy surgery?
Are there alternatives to hip arthroscopy?